Syrian opposition postpones participation in peace talks
Original Article Post Date:
Mon, 18/04/2016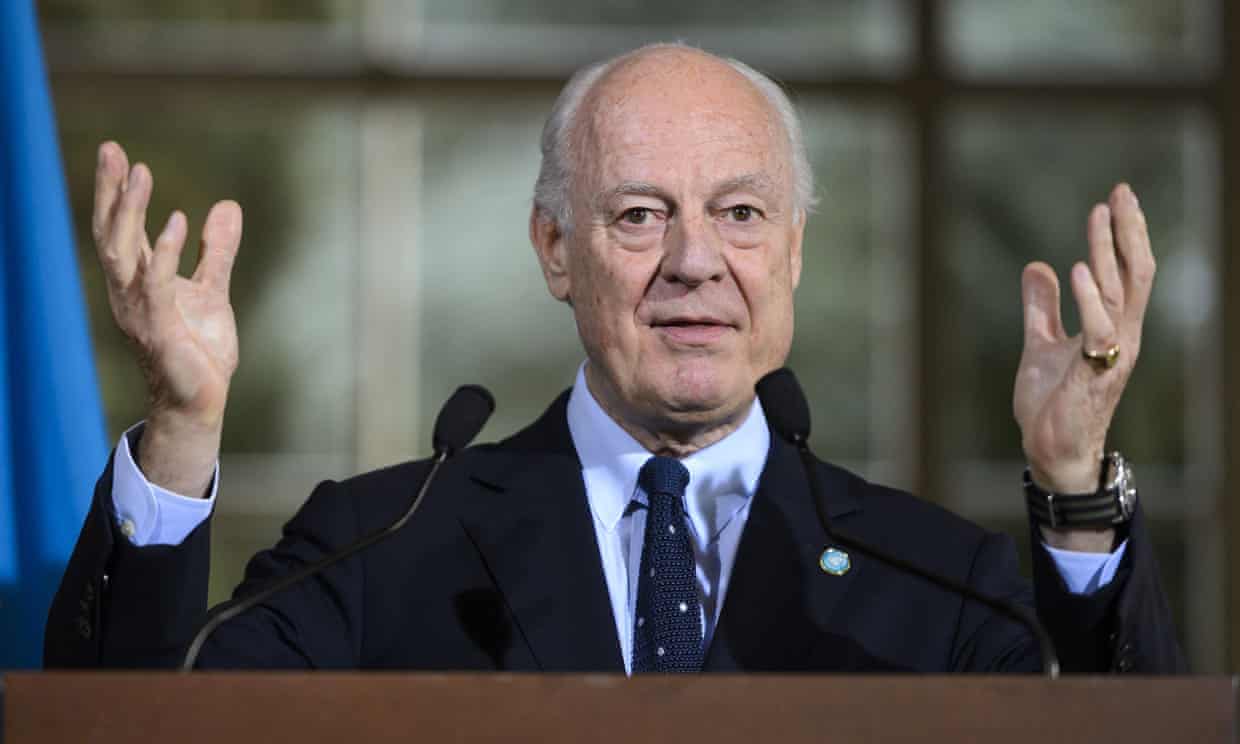 Ian Black in Geneva
UN-sponsored Syrian peace talks are facing a new crisis after opposition negotiators decided to delay their participation in the formal process until officials representing President Bashar al-Assad start to discuss the creation of a transitional government in Damascus – which they have so far refused to do.
Riyad Hijab, head of the opposition higher negotiations committee (HNC), was due to announce next steps after a meeting with the UN envoy, Staffan de Mistura, which followed tense consultations in a divided rebel camp. But a scheduled evening press conference with Hijab was postponed until Tuesday.
De Mistura, clearly seeking to play down the significance of the decision, said the opposition negotiators would remain in Geneva and the talks would continue, though possibly informally and outside UN headquarters at the Palais des Nations. But key opposition officials, sceptical about future prospects, were already planning to leave town.
Syrian and western sources said the HNC would pause its participation in the third round of proximity talks to test whether the UN or the major powers would take a tougher line on the Assad regime, more than five years after the start of a conflict that has claimed up to 470,000 lives and made millions homeless. "The HNC wants to have a break while the ceasefire is restored," said one official. "If it is not, we will have to think again."
De Mistura carefully described the opposition's "intention to postpone their formal participation in the negotiations to express their displeasure and concern about the degradation of the humanitarian situation and the problems related to the cessation of hostilities". He said he planned to take stock at the end of the week, acknowledging a "worrisome" increase in violence.
Escalating regime attacks and mounting resentment from rebel fighting forces have provided a wake-up call to the HNC that it cannot risk losing touch with its own constituency. The patchy truce came into force in late February but is now badly frayed. Ten different armed groups loyal to the Free Syrian Army warned of the need to "take firm and decisive stances towards the half-solutions being propagated … by the regime's allies and de Mistura."
Diplomats say the UN envoy proposed last week that Assad remain in office for a defined period along with three newly appointed vice-presidents who would be responsible for security, the military and reconstruction – an idea that is said to have originated in Moscow as an alternative to the creation of a "transitional governing body" as stipulated since 2012.
On Saturday there came a similar warning from the Islamist group Ahrar al-Sham, one of the most powerful rebel fighting forces. Only three of the 15 members of the HNC negotiating team met de Mistura on Monday.
Turmoil in the opposition camp has been matched by a determined effort by Syrian government representatives to get their own messages across and give no ground.
Bashar Jaafari, head of the Syrian government team, emerged from a session with de Mistura earlier on Monday to condemn "irresponsible and provocative behaviour" by Israel. Sunday's comments by the Israeli prime minister, Binyamin Netanyahu, about holding on to the Syrian Golan Heights – occupied since 1967 – coincided with the annual celebration of the end of French colonial rule in Syria in 1946, which seemed like a calculated insult.
Jaafari linked the Israel statement to what he called the "Riyadh opposition" delegation in Geneva – a reference to the Saudi-backed HNC – and underlined what he called "the close cooperation between Israel and some Arab countries on the one hand and the terrorists in Syria on the other."
Opposition officials hope that their withdrawal will least secure international condemnation of Assad and support for their position, though they complain that the US seems closer to Russia than to Britain and France, who have again proposed carrying out air drops of food and supplies to Syrian areas that are under siege by government forces. Qatar has stepped up military supplies to rebel units and the Turks and Saudis are likely to do so as well if the talks fail.
Robert Ford, a former US ambassador to Syria, set out the argument for staying put at the talks. "HNC can keep rejecting weird ideas, using Geneva 3 as platform for reasonable ideas & show regime brutality while fight on ground continues," he tweeted.
Rebel forces launched a fierce attack against government forces in Latakia province, on the Mediterranean coast, and made separate advances further east in Hama, while there were heavy government airstrikes in Homs province to the south.
Mohammad al-Shamsi, a doctor in the Homs area, told Reuters there had been at least 10 air raids from early morning on Rastan and nearby Deir Foul and al-Houla. Schools had been evacuated and hospitals shut.
www.theguardian.com/world/2016/apr/18/syrian-opposition-pauses-participation-geneva-peace-talks