Opulence and paranoia as Saudi king visits Turkey
Original Article Post Date:
Thu, 14/04/2016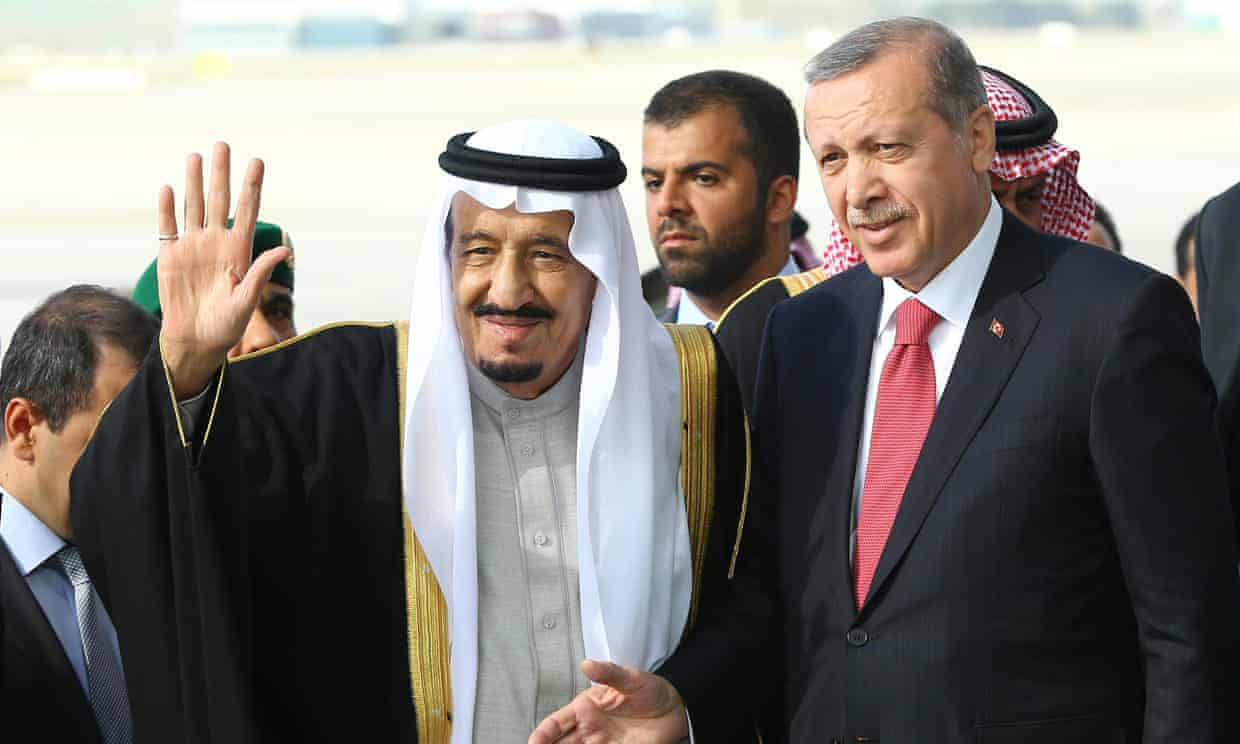 Simon Tisdall, theguardian
Even by Saudi Arabia's extravagant standards, this week's visit to Turkey by King Salman bin Abdulaziz, seen as a key moment for relations between the two leading Sunni Muslim powers, has set new records for opulence and paranoia.
An advance team of 300 Saudi security officials was sent to Ankara to prepare for the king's arrival. The Turkish capital has been hit by terrorist bombings in recent months that the president, Recep Tayyip Erdoğan, has blamed on Islamic State and Kurdish extremists.
The security detail booked every room in the five-star JW Marriott hotel. The windows of the 450-sq metre King Suite were covered with bulletproof glass and the walls were plastered with bomb-resistant cement at a cost of $10m (£7m), local media reported.
About 500 luxury cars and people movers were hired from all over Turkey to transport the king's entourage. A long tailback of black Mercedes ensued as the hotel's car park overflowed and a small army of chauffeurs awaited orders. Salman's personal belongings, clothes and food were flown to Ankara in a fleet of cargo planes.
When the king's meetings end on Wednesday, the entire operation shifts to Istanbul, where he will attend a two-day Organisation of Islamic Cooperation (OIC) summit.
Salman and Erdoğan, described as Turkey's modern-day sultan who lives in a lavishly appointed palace, have much in common. They both want to topple Syria's leader, Bashar al-Assad, and have made proclamations about defeating terrorism in Syria and Iraq.
Saudi Arabia has stationed warplanes at Turkey's İncirlik base in support of US-led operations. In December, Riyadh unveiled an "anti-terrorism" coalition that it said would deploy troops, if necessary, in Syria. There is speculation Turkish troops could get involved, but most likely in anti-Kurd operations.
Erdoğan, a devout Sunni who has broken with the Turkish republic's secular tradition, is sympathetic to the Saudis in their rivalry with Shia Muslim Iran for regional power and influence. He recently criticised Tehran over its frequent use of the death penalty. But he made no such criticism of the Saudi regime when it executed a leading Shia Muslim cleric, Nimr al-Nimr, and 46 others in January.
Like King Salman, Erdoğan is under fire from European and American politicians and pressure groups for his authoritarian behaviour and widespread human and civil rights abuses. Erdoğan, in turn, regularly accuses the EU of irresponsibly blaming its refugee problems on Turkey. Both leaders are critical of what they see as weak American leadership, not least because of last year's nuclear compromise between Washington and Tehran. As a result, both appear to be backing away from traditional western allies.
The OIC summit, which is due to discuss terrorism, Palestine, and regional conflicts such as Yemen, is likely to include an attempt by King Salman to rally the Sunni world behind his leadership. Salman will also try to reconcile Erdoğan to Egypt's new military-backed government, which overthrew the elected, Turkish-backed Muslim Brotherhood president, Mohammed Morsi, in 2013.
Erdoğan wants Morsi's death sentence commuted. Bringing together these two major Sunni powers is a key Saudi strategic aim.
Turkish analysts suggest a closer military, investment and trade relationship with Saudi Arabia could fuel Erdoğan's neo-Islamism, his undemocratic behaviour and his defiance of the EU and the west as he seeks to create an executive presidency.
The commentator Nuray Mert said Turkey was at a turning point in terms of its post-Ottoman, pro-western secular outlook and risked becoming more closed and repressive.
"Under various circumstances, the present government circles have not hesitated to define their allies as plotters and even enemies of Turkey," Mert wrote in Hürriyet. "It is the last chance. Unless they come to their senses and realise the ramifications of losing Turkey's old partners and friends, this country will be totally doomed."
www.theguardian.com/world/2016/apr/12/saudi-king-salman-bin-abdulaziz-begins-visit-turkey