Japan Overtakes China as Largest Holder of U.S. Treasuries
Original Article Post Date:
Fri, 16/12/2016
by Sarah McGregor
Biggest holder of American govt debt held $1.13 Tln in Oct.
China holdings fell to a six-year low of $1.12 trillion
A monthly Treasury Department report showed China held $1.12 trillion in U.S. government bonds, notes and bills in October, down $41.3 billion from the prior month and the lowest investment since July 2010. The portfolio of Japan decreased for third month, falling by $4.5 billion to $1.13 trillion, according to the data. Collectively, the two nations account for about 37 percent of America's foreign debt holdings.


China's foreign reserves, the world's largest stockpile, declined for the fifth straight month in November to $3.05 trillion -- the lowest since March 2011 -- amid support for the sliding currency. That stockpile has fallen from a record $4 trillion in June 2015.
The report, which also contains data on international capital flows, showed net foreign buying of long-term securities totaling $9.4 billion in October.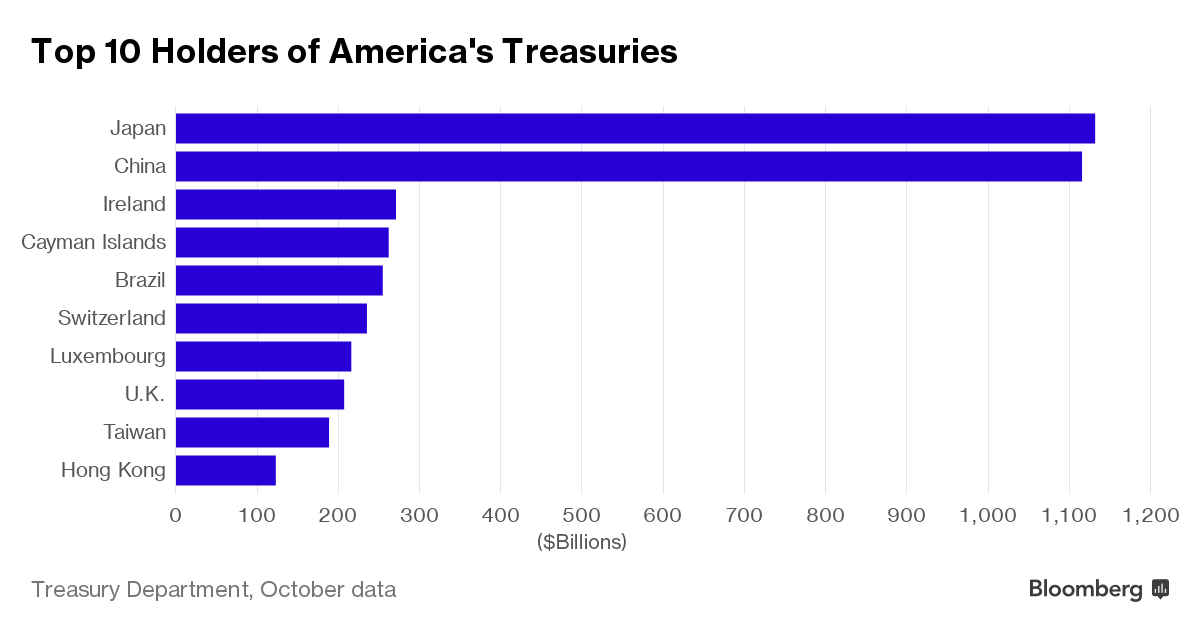 International investors sold $63.5 billion in U.S. Treasuries in October, while foreigners purchased a net $4.5 billion of corporate debt, $20.5 billion in equities, and $32.4 billion in agency debt, according to the report.
www.bloomberg.com/news/articles/2016-12-15/japan-overtakes-china-as-largest-holder-of-u-s-treasuries