Israel, Turkey reach agreement to normalize ties – Israeli official
Original Article Post Date:
Mon, 27/06/2016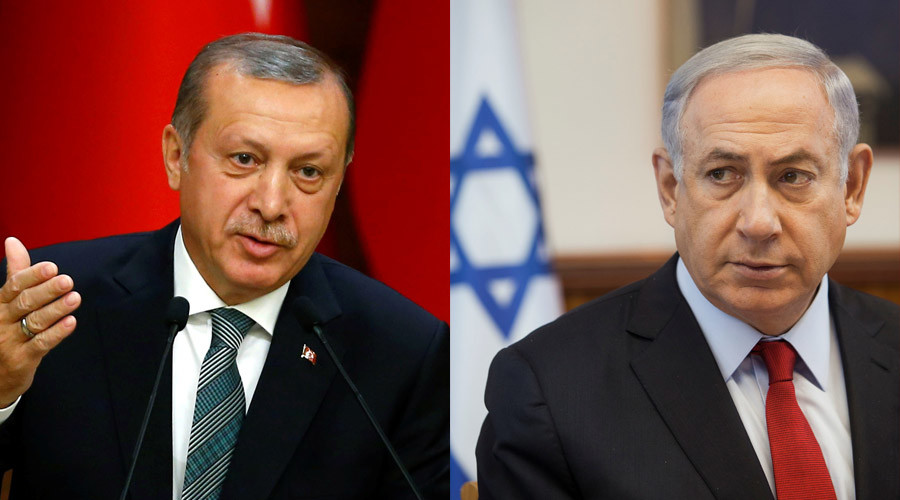 Israel and Turkey have reached an agreement to normalize ties, a senior Israeli official told reporters, according to Reuters. This will end bitter rift over the Israeli Navy's killing of nine Turkish citizens during a Gaza flotilla raid in 2010.
The agreement, which took three years to reach, is expected to be officially announced on Monday, said the official traveling with Israel's Prime Minister Benjamin Netanyahu, who is currently in Rome.
Israel to pay Turkey $20 million as compensation for Marmara; will only be transferred after Turkish legislation preventing legal claims
The restoration of full diplomatic relations that deteriorated after the Israeli navy's killed nine Turkish and one Turkish-American pro-Palestinian activists in 2010 has been brokered with the help of Washington.
Israel conducted an operation against six civilian ships that belonged to the Gaza Freedom Flotilla in international waters of the Mediterranean Sea. The ships fit by the Free Gaza Movement and the Turkish Foundation for Human Rights and Freedoms and Humanitarian Relief (IHH) were carrying humanitarian and construction supplies to the blockaded Gaza Strip.
The deal is likely to involve compensation (of around $20 million) to the families of the killed Turks and higher Turkish aid and development projects for Gaza, Israeli media report.
The $20 million in compensation will come as a humanitarian act to a special fund organized for the families of the victims killed by the IDF soldiers. The payment is external to the agreement, an act of good will, and doesn't imply that Israel has acknowledged responsibility for the incident, the official stressed, according to the Jerusalem Post. The transaction will be carried out as soon as Turkey passes law making it impossible for the families to file further claims against Israeli officers or soldiers.
Turkish President Recep Tayyip Erdogan has reportedly pledged to make effort to release the bodies of two Israeli soldiers that are held by the Hamas organization in the Gaza Strip and two other Israeli civilians.
"We asked for and received a document in which the Turkish president instructs the relevant Turkish agencies to work toward resolution of the issue of those kidnapped and missing. The document is in our hands, that's what Turkey can do for now," the official said, according to the Times of Israel.
The deal is to be signed on Tuesday by Foreign Ministry Director Dore Gold and his Turkish counterpart, Mevlut Cavusoglu.
Two of Turkey's conditions for normalizing diplomatic relations that involved an apology and compensation are going to be fully met, reports say. The third demand – lifting the Gaza blockade – was a matter of disagreement and called for a compromise.
Israel will reportedly allow Turkey to help with the completion of a hospital in the Palestinian enclave and the construction of a new power station as well as a plant for desalination of water.
The Istanbul-based Foundation for Human Rights and Freedoms and Humanitarian Relief (IHH) has expressed its objections to the agreement on its official Twitter feed, both in English and Turkish. It includes 12 points that explain why Turkey shouldn't be contained with the terms of the deal, especially stressing that the agreement "should be based on the conditions of abolishing the blockade, not the embargo."