In surprise move, Netanyahu says he's ready to negotiate based on Saudi peace initiative
Original Article Post Date:
Tue, 31/05/2016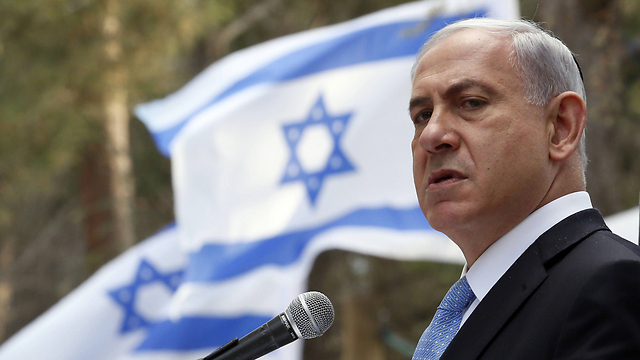 By GIL HOFFMAN
In surprise move, Netanyahu says he's ready to negotiate based on Saudi peace initiative
'Post' learns that Hanegbi will help Netanyahu lead new push; Bennett said to be opposed to change in stance.
Israel is prepared to hold peace talks based on the Arab Peace Initiative, Prime Minister Benjamin Netanyahu surprisingly declared Monday just moments after new Defense Minister Avigdor Liberman took the oath of office, ending a month-long saga over which party would join Prime Minister Benjamin Netanyahu's government.
"I remain committed to making peace with the Palestinians and with all our neighbors," Netanyahu said in a press conference following the swearing- in ceremony. "The Arab peace initiative includes positive elements that can help revive constructive negotiations with the Palestinians.
"We are willing to negotiate with the Arab states revisions to that initiative so that it reflects the dramatic changes in the region since 2002, but maintains the agreed goal of two states for two peoples."
The controversial Arab Peace Initiative – long rejected by Jerusalem and also known as the Saudi Initiative – calls for normalizing relations between Arab countries and Israel, in exchange for a complete withdrawal by Israel to pre-1967 lines and a solution to the Palestinian refugee problem.
The Jerusalem Post has learned that Likud MK Tzachi Hanegbi, who was sworn in as minister-without-portfolio in the Prime Minister's Office and will deal with foreign affairs and defense issues, will be involved in new regional diplomatic initiatives Netanyahu intends to advance in coming weeks. He is the Likud's most dovish minister.
Netanyahu also praised Egyptian President Abdel Fattah el-Sisi's offer to advance peace and security in the region. Liberman, who has been critical of Egypt in the past, said he agreed with Netanyahu's statements, including about the Arab peace plan and reiterated Yisrael Beytenu's long-standing support for a two-state solution.
Sources close to Bayit Yehudi leader Naftali Bennett, however, said he would have a hard time supporting such diplomatic initiatives.
They said the people of Israel elected a right-wing government and deserved to receive one. The diplomatic issue is expected to be one of many disputes within the coalition in the weeks ahead.
A dispute between Netanyahu and Bennett over the appointment of a military secretary to the security cabinet was resolved past midnight Sunday night. The National Security Council will brief security cabinet ministers until a committee appointed by Netanyahu to determine how to proceed further issues its recommendations in three weeks. If the recommendations are not to Bennett's liking, Bennett's associates said the dispute could start all over again.
There also expected to be disputes over the state budget; deliberations on the budget in the cabinet will start Tuesday morning.
When he agreed to join the coalition, Liberman withdrew from his party's demands on matters of religion and state, but he opposes a controversial bill that will come to a vote in the Knesset Wednesday that requires harsh punishments for people who are not Chief Rabbinate recognized rabbis who conduct wedding ceremonies in Israel.
Yisrael Beytenu formally joined the coalition Monday night following approval by a 55-43 Knesset vote in which Likud MK Bennie Begin abstained and rebel Yisrael Beytenu MK Orly Levy-Abecassis did not participate. In addition to Liberman, Yisrael Beytenu MK Sofa Landver was sworn in as immigrant absorption minister. Along the guidelines of the so-called Norwegian Bill, which allows a minister or deputy minister from each coalition party to be replaced by the next name on the party's Knesset list, Liberman quit the Knesset Monday night. He will be replaced by Holon city councilwoman Yulia Malinovsky, who will be the Knesset's 33rd woman.
Ahead of the vote approving the coalition agreement, the Knesset conducted a stormy debate on the issue in which opposition MKs harshly criticized Liberman.
Zionist Union MK Erel Margalit read a speech full of insults to Netanyahu that were all uttered by Liberman over the past year.
Zionist Union MK Yoel Hasson poked fun at a statement by Liberman last month that if he became defense minister, he would assassinate Hamas leader Ismail Haniyeh within 48 hours. Hasson started a countdown until Haniyeh's death.
http://www.jpost.com/Israel-News/Politics-And-Diplomacy/Avigdor-Liberman-was-approved-in-the-Knesset-as-Defense-Minister-455475