Uzbekistan and South Korea: towards a special relationship
Original Article Post Date:
Sat, 11/06/2016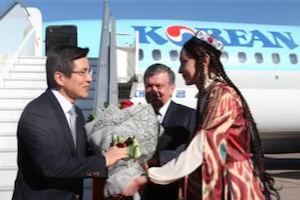 Central Asia Caucasus Analyst, Mirzokhid Rakhimov and Sung Dong Ki
South Korea's Prime Minister Hwang Kyo-ahn visited Uzbekistan on May 19-20, 2016. The visit was the fifteenth official high-level meeting between the two countries. Over the last year, several new actors have increased their engagement with Central Asia, aside from South Korea also including Japan and India.
South Korea is an important partner to the Central Asian republics, and especially to Uzbekistan. In May 2015, Islam Karimov made Seoul the destination of his first foreign visit after his reelection as president. The visit underscored the priority given to South Korea in Uzbekistan's foreign policy. South Korea is among the largest investors in Uzbekistan's economy, and cooperation is growing in education, tourism, cultural exchanges, and security.
BACKGROUND: South Korea recognized Uzbekistan's independence in December 1991 and diplomatic relations between the countries were established within a month. Most post-Soviet republics were cautious towards South Korea given its close relationship with the U.S., but Uzbekistan sought active political dialogue with Seoul as a modern symbol of Asian dynamism and technological breakthrough. Over time, the relationship between Uzbekistan and South Korea has resulted in a wide range of bilateral political and economic cooperation. Uzbekistan and South Korea have carried out a continuous interstate dialogue based on regular high-level meetings, of which fifteen have been held between 1992 and 2016.
In 2006, South Korea and Uzbekistan signed a declaration on strategic partnership, which they agreed to develop and deepen further in a new Joint Declaration signed during President Park Geun-hye's visit to Tashkent in 2014. Park stressed that Uzbekistan has long been the center of the Great Silk Road, and is today South Korea's largest trade partner in Central Asia. When President Karimov visited Seoul in May 2015, 60 documents relating to trade, investment, economic and technical cooperation and other spheres were signed, at a total worth of US$ 7.7 billion. Seoul is taking a leading place among Uzbekistan's trade partners in Asia. In 2015, bilateral trade turnover between the countries exceeded US$ 1.7 billion, corresponding to 50 percent of South Korea's trade with Central Asian republics. South Korea has been active in realizing numerous projects and programs in different regions of Uzbekistan, including the free industrial-economic zones Navoi and Angren, and the development of an intercontinental logistics center at Navoi airport.
IMPLICATIONS: South Korea has emerged as one of Uzbekistan's most important political and economic partners. Korean investments into Uzbekistan's economy exceeds US$ 7 billion and cover trade, communications, energy, light industry, pharmaceuticals, mining, production of petrochemicals, electronic products, and building materials. Of particular importance is South Korea's support for the development of the Navoi free industrial and economic zone. Since 2008, Korean Air has conducted cargo flights through Navoi airport, and has introduced advanced technology and efficient systems control at the airport. The Navoi center currently carries out more than 20 flights per week to Seoul, Milan, Brussels, Frankfurt, Vienna, New Delhi, Mumbai, Hanoi and other cities.
More recently, Korea International Cooperation Agency has been involved in the design of a new terminal for Tashkent airport, which will be built by a Korean company. The Tashkent and Navoi airports could indeed fill important functions in Central Asia, comparable to transport hubs like Incheon airport for the Asia-Pacific region or Frankfurt Airport for the European Union.
During Prime Minister Hwang's recent visit to Uzbekistan, he joined Prime Minister Shavkat Mirziyaev in the inauguration of the hitherto largest bilateral cooperation project – the US$ 4 billon Ustyurt Gas Chemical Complex at the Surgil deposit. South Korea and Uzbekistan also founded the joint venture LG CNS Uzbekistan to support the implementation of information systems and databases for E-Government in order to facilitate the mobility of people, business and government system in Uzbekistan. Uzbekistan and South Korea have also agreed on training programs, under which thousands of representatives of Uzbek small and medium-size businesses annually work and receive training in Korean enterprises and companies. Currently, around 100,000 Uzbek citizens are present in different sectors of the Korean economy and education system.
For more efficient implementation and development of high technology, Uzbekistan has invited South Korean experts to take positions as deputy minister in the ministry for development of information technologies and communications, as well vice rectors at several universities. In 2014, South Korea's Inha University opened a branch in Tashkent, which focuses on computer sciences and high-tech engineering and gives all courses in English. In past decades, Korea went through similar experiences when it invited many experts from the U.S. and Europe.
Uzbekistan has the largest Korean diaspora (over 200,000) in the former Soviet Union and the fourth largest in the world, after China, Japan and the U.S.. Tourism from Korea to Uzbekistan is growing, as well as cultural links and public diplomacy. Uzbekistan's universities and research institutions of the Academy of Sciences cooperate with several South Korean universities, research organizations, and companies. This partnership provides professional development, training and academic mobility, along with exchanges of professors and students. A number of joint conferences, symposiums, seminars and research projects have been carried out in both republics. In May 2016, the House of Korean culture and art was founded in Tashkent. Moreover, Korean culture, including cinema, cartoons and music are becoming very popular among different generations of Uzbek society.
South Korea and Uzbekistan also cooperate in multilateral formats. The annual forum Republic of Korea – Central Asia has been organized since 2007 in Korea as well as in Central Asian countries, aiming to strengthen and extend regional cooperation. The 5th Forum took place in Tashkent in November 2011. The Republic of Korea – Central Asia forum has focused on furthering cooperation in various spheres, including the IT sector, agriculture, medicine, E-government, energy-effectiveness and natural recourses, construction and infrastructure, science and technologies, finances and textile. Tashkent supports Seoul's position on the problems of the Korean Peninsula and its "New Asian Diplomacy" initiative. A note from Uzbekistan's foreign ministry also strongly criticized North Korea's recent nuclear test.
CONCLUSIONS: South Korea is one of Uzbekistan's most important partners. The two republics have over the past twenty years built a strong political and economic partnership and developed a regulatory framework for bilateral and multilateral cooperation. South Korea has a strongly positive image in Central Asia and is along with Russia, China, the U.S., Japan, and the EU among the largest investors in Uzbekistan. Republic of Korea – Central Asia and Central Asia plus Japan both represent new formats for regional and interregional cooperation. However, it is essential that Uzbek-Korean bilateral and Central Asia-Korean multilateral agreements are actively implemented and that the range of cooperation between the participating countries is expanded. Strong cooperation between Uzbekistan and South Korea as well as between South Korea and Central Asia is vitally important for the region's economic and technological modernization and connectivity, and could contribute to closer trade ties, economic development and investment relations between Central Asia, South Asia, the Middle East and Asia-Pacific.
Source: http://www.cacianalyst.org/publications/analytical-articles/item/13369-uzbekistan-and-south-korea-towards-a-special-relationship.html