Ethiopia and Eritrean troops engage in a heavy border battle
Original Article Post Date:
Wed, 15/06/2016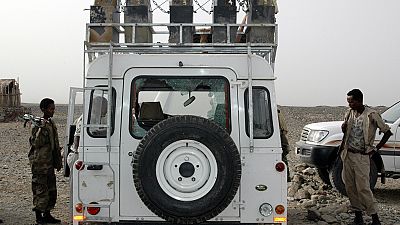 BORDER DISPUTE
Eritrea and Ethiopia have accused each other of starting clashes on Sunday between their soldiers in a militarized border region.
Ethiopia's Information Minister Getachew Reda reportedly said both forces have suffered significant casualties
Eritrea had accused Ethiopia of starting the fighting, which broke out on the Tsorona border.
Residents on the Ethiopian side of the border reportedly heard gunfire and saw movement of troops and artillery towards the border.
Eritrea achieved independence form Ethiopia in 1993 after decades of armed struggle.
This is not the first time such an incident has occurred between the neighboring countries who often accuse each other of attacks.
In 1998, the two neighbouring countries fought a two-year long war over their disputed border which has claimed the lives of at least 70,000.
The two countries have had tense relations as a peace deal signed in 2000 to end the war has never been fully implemented.
AFP, News Agencies
www.africanews.com/2016/06/13/eritrea-accuses-ethiopia-of-attacks-in-border-region/